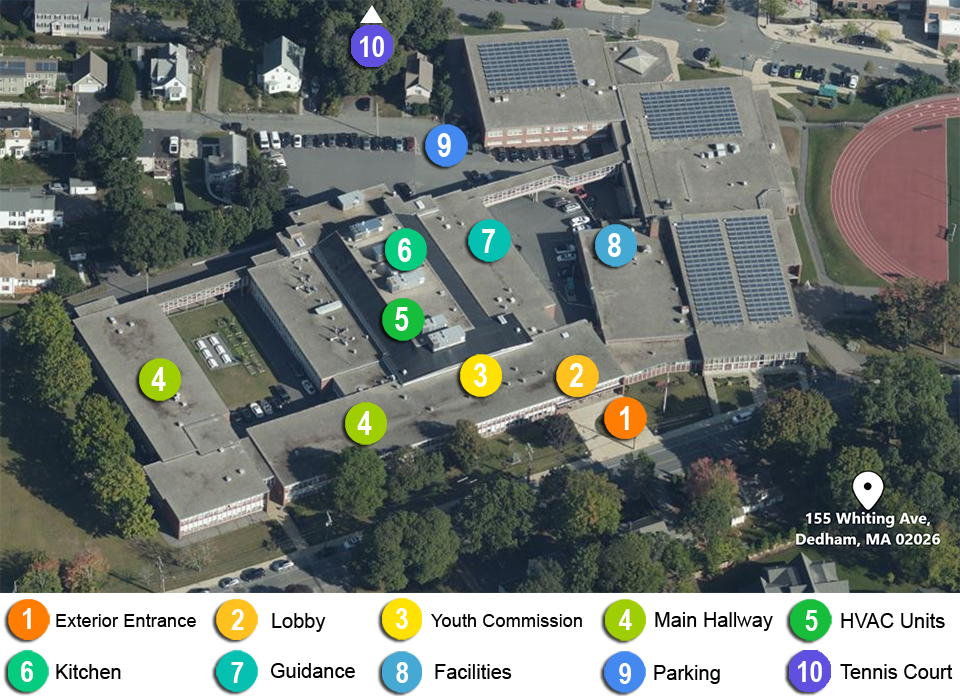 The modernization of Dedham High School has been a long-term commitment of this office since 2012, with more than a dozen individual projects completed. Our work with the Town of Dedham focuses on creating flexible options to be implemented over time at a pace that fits a complex municipal environment.
Our Dedham High School Improvements Include:

• Library and Media Center •
• Main Entrance and Lobby Redesign • Lobby Vestibule and Security Improvements •
• Youth Commission Suite • Hallway Ceiling and Lighting Improvements •
• Rooftop HVAC Unit Replacement • Kitchen Floor Upgrade • Guidance and Health Office Suites •
• Facilities Department Office • Rear Parking Lot Regrading and Accessibility Improvements •
• Tennis Court Resurfacing •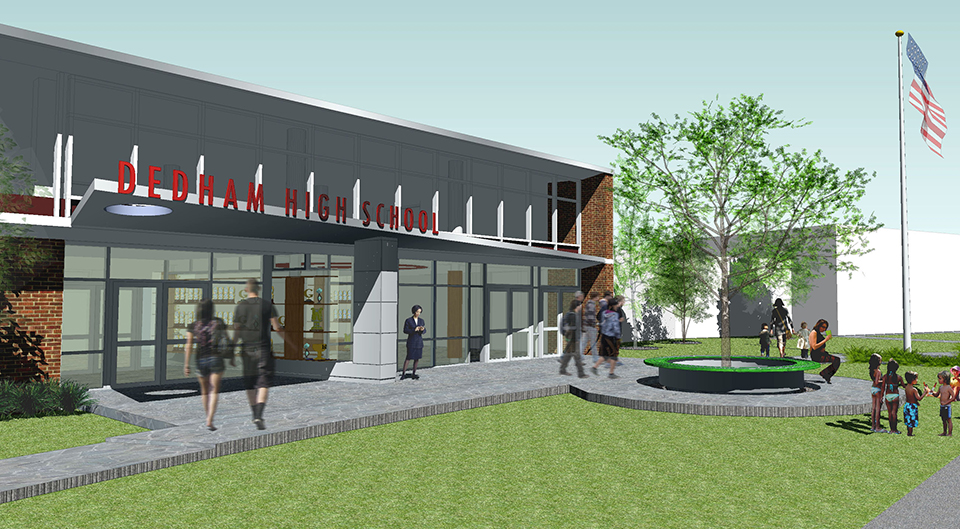 1.
We designed a new exterior entrance canopy and signage for the school, new display cases for the lobby, and a new front plaza, which are being incrementally added as budget permits. Our approach in working with towns is to help them visualize and estimate options for improvements that can be implemented over time, as there is not always the opportunity for major capital improvements to be done all at once.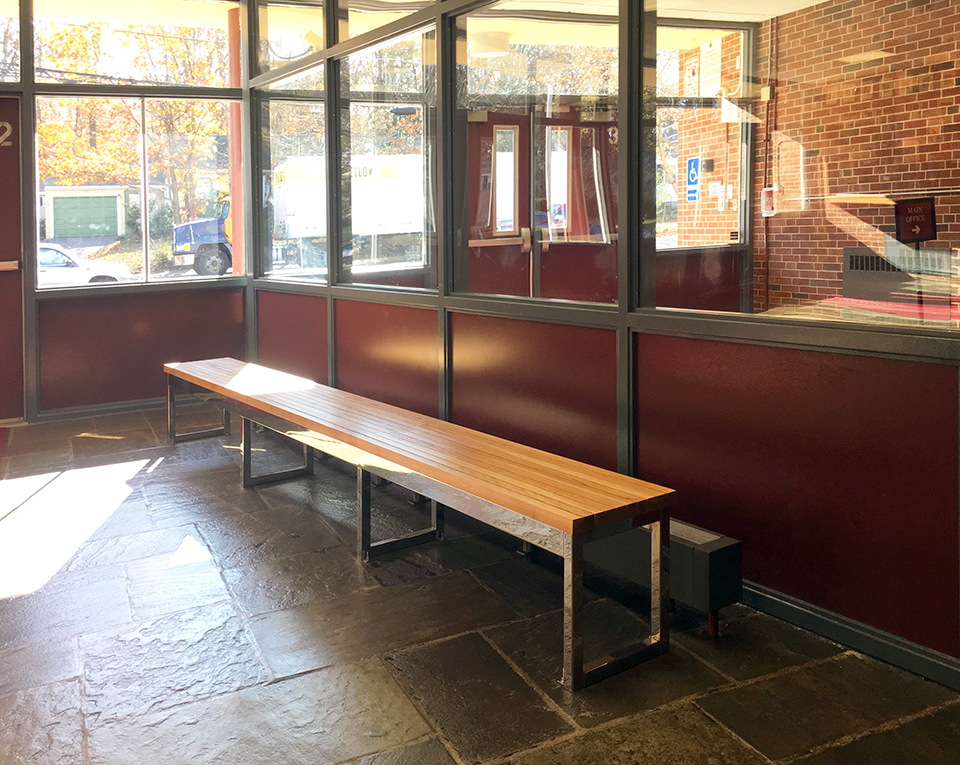 2.
The security upgrades project at the main entrance of Dedham High School was a crucial step in modernizing the campus and accommodating the present-day needs of an educational facility. A new interior vestibule with updated security doors provides safe access throughout the day for both students and visitors, improves the energy efficiency of the building, ties seamlessly in with original materials and design while adding visual interest, and creates a bonus seating area for occupants to enjoy.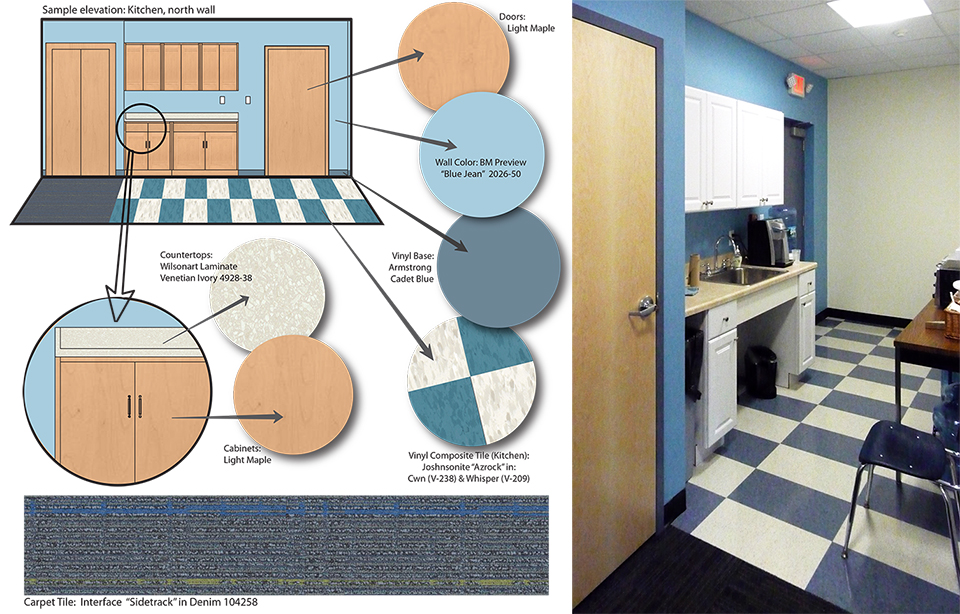 3.
Another project at Dedham High School was the renovation of two defunct Home Economics classrooms into new and improved offices for the Guidance suite, to meet the needs of a modern counseling and college preparatory department. This project provided new private offices for counseling, a new common meeting area, a kitchenette, a new reception area and new restrooms.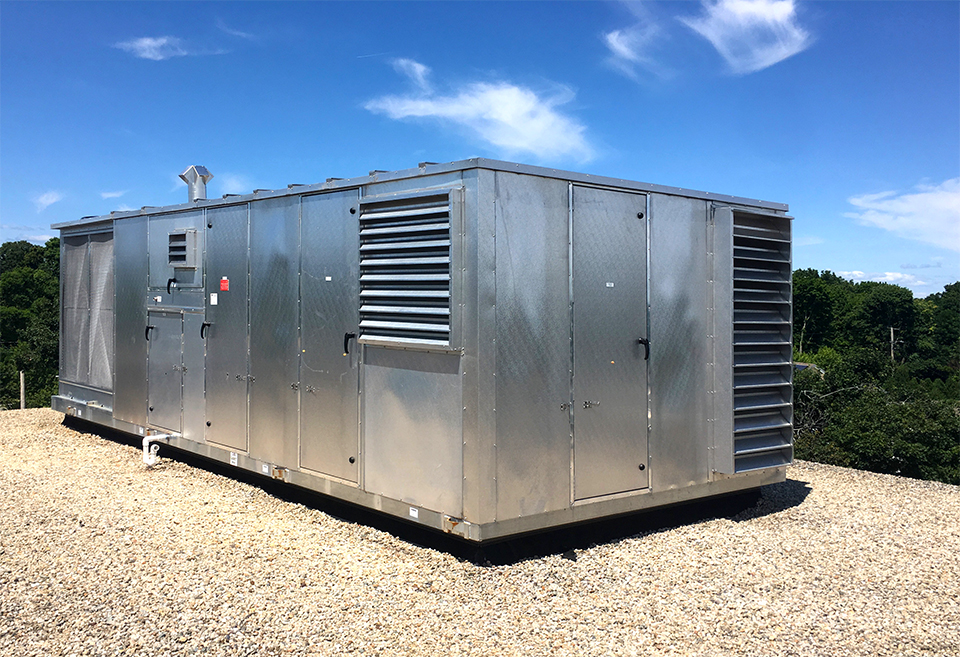 4.
In 2019 and 2020, all six rooftop heating and cooling units for the Dedham High School were replaced and upgraded to new equipment with the goal of increasing energy efficiency and decreasing maintenance costs for the entire building.