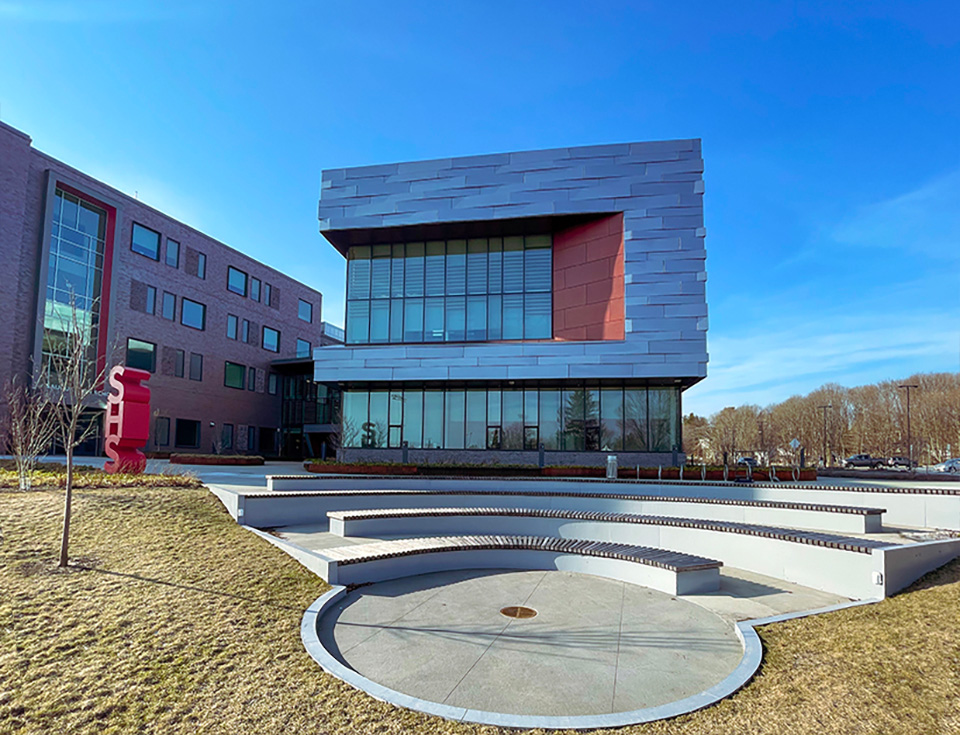 Sustainability Powerhouse
On January 19th, 2022 Saugus Middle High School, designed by HMFH, Architects, Inc., became the first state-funded school project in Massachusetts to achieve the coveted honor of LEED Platinum-level Certification. It is one of only four such LEED version 4.0 for Schools projects worldwide at the time of certification.
Saugus MHS features countless sustainable design elements, some of which include:
4-story light wells to bring natural daylight to interior learning spaces;
shared public spaces to promote collaborative learning;
high efficiency electric vehicle charging stations;
adaptive vegetation and landscaping that requires little mowing and zero irrigation;
100% low-emitting paint, adhesive, flooring, wall, ceiling, and insulation products;
100% of occupied spaces equipped with smart controls for interior light;
zero mercury-containing light fixtures; a comprehensive composting program; and many more.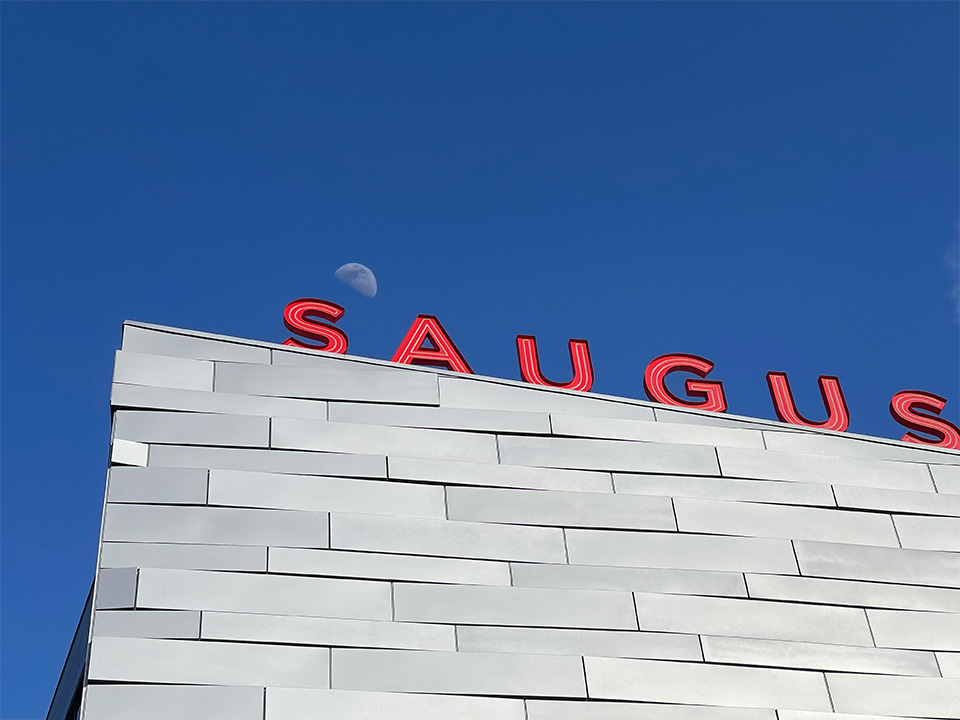 Metrics
Energy Use: 26% Reduction and electricity savings of 2,484,290 kilowatt hours per year
Water Use: 45% Reduction
Waste: 75% Diverted from Landfill
Building Materials: 63 products with Environmental Product Declarations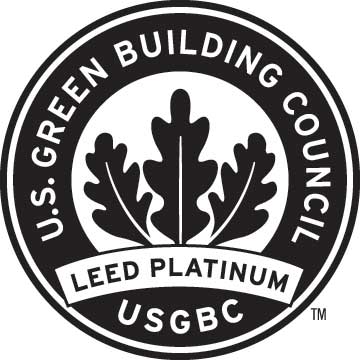 Sustainable Story
James Carr, architecture + design joined the project team in 2016, when the LEED goal was achieving LEED Silver level certification. Working with the design team, we identified enough potential points to raise the threshold to Gold in late 2018. By 2021 we carried out a feasibility analysis and determined that with additional community support and effort from the design and construction team, we could to reach the historic target of Platinum Certification.
James Carr, architecture + design functioned as problem-solvers and facilitators, ensuring that the project remained a collaborative process and keeping the team of specialized consultants focused on meeting sustainability goals established by the Town of Saugus:
provide a healthy, safe, and secure school environment
create a modern learning environment for today's changing world
create a long-lasting, adaptable, and expandable building and site
build a climate resilient building
build and operate a low carbon footprint building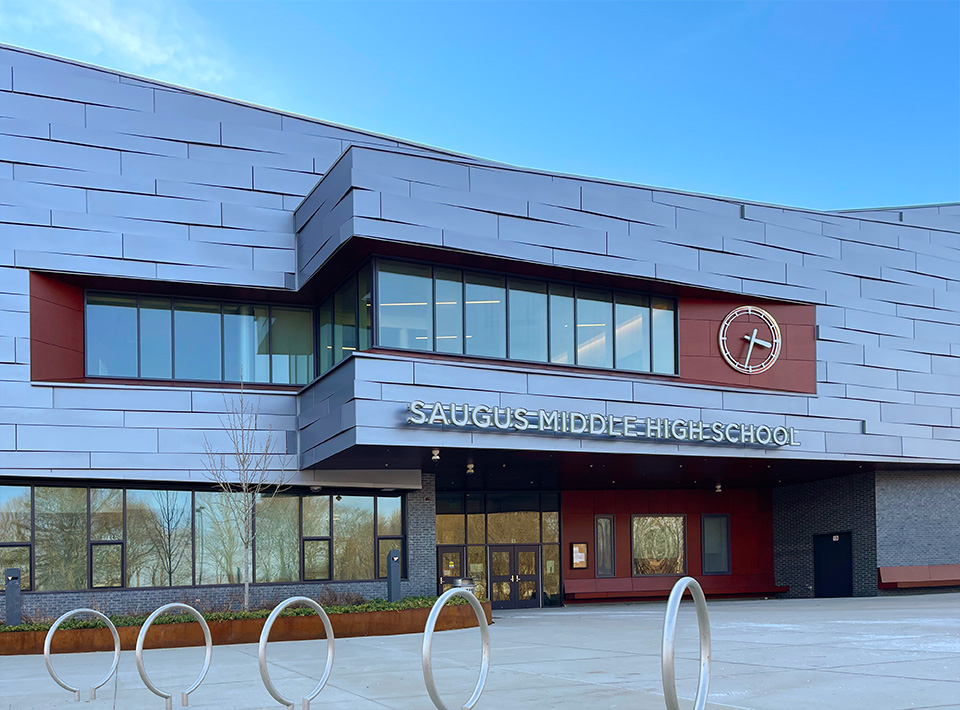 James Carr, architecture + design worked to provide research and key insights, and support the project team. Our firm's key role was in framing and communicating the potential for LEED credits in ways that helped the project Architect convince community members that the sustainability goals were achievable.
We provided the Architect with the thorough guidance needed to overcome a variety of challenges, including:
Documenting the existing variety of transportation options in the vicinity of the project building available for students and staff. Developing an image of a "walkable" community through LEED credits helps its members shift behavior towards more sustainable modes of travel.
Advocating for the incorporation of new COVID-19 response LEED credits and procedures to ensure that the project remained dedicated to its goals despite the difficulties of the current world.
Carrying out a comprehensive study of the building's western façade, which faces Massachusetts' historic Route 1. Proximity to a busy highway created a variety of challenges. James Carr, architecture + design viewed this as an opportunity and recommended ways to innovate, educate the community, and showcase the building's features.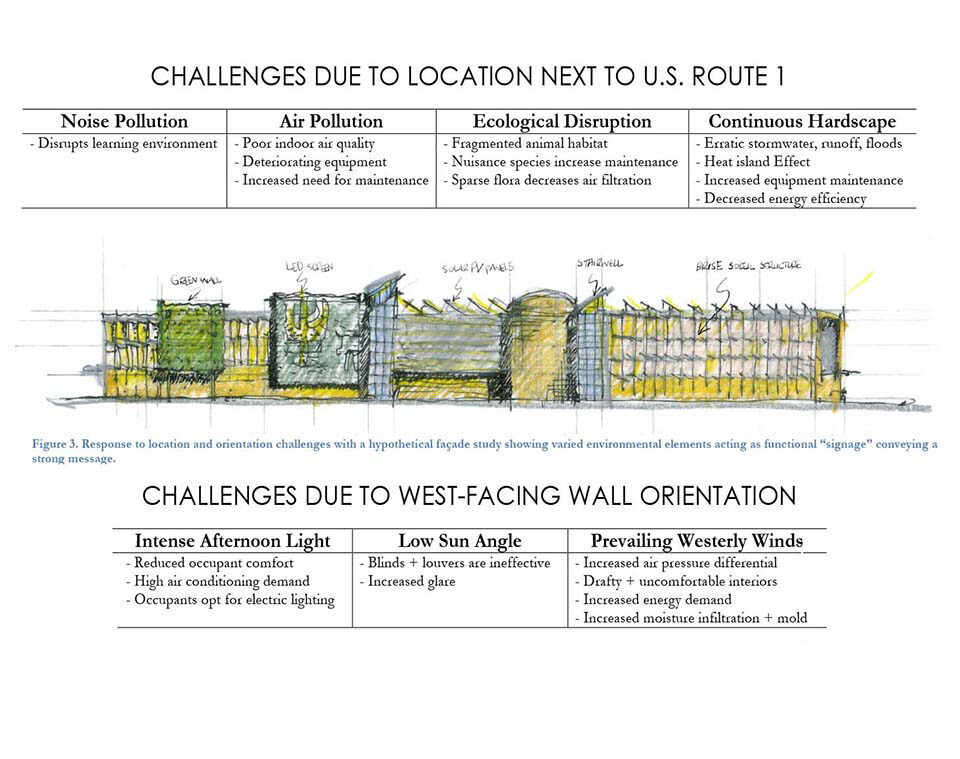 The Saugus Middle High School is a 271,000 sf innovation and learning center that houses 1,360 students. This flagship project focused on STEAM programs and education was conceived and designed to propel the Town of Saugus towards becoming a Level 1 school district.